My name is Nadya and I'm addicted to the leggings…
Before I talk to you about leggins, specifically those with space prints, I'll give you a quick explanation about the history of this clothing article. Did you know they were originally made for me?
As odd as that may sound, in the 19th century, they were used by knights to avoid snake bites and ticks. Later it evolved and used by the military to protect the soldier's legs. It wasn't until the 70's that a designed named Patricia Field created the leggings as they are today.
If you love Star Wars, Mass Effect, Metroid and like to use clothing with the same theme, you can now combine your favorite sci-fi shirt and use it was leggings that have space prints that have cosmos or a galaxy. Create the perfect outfit!
Now, you may be asking yourself, such a comfortable and versatile clothing piece has no downsides? Well… technically they aren't "downsides", but they do have some inconveniences that can be avoided with the following tips:
Always try to buy a size bigger, otherwise the print can stretch and lose its color.
Focus on darker colors, even though it doesn't sound right, you'll be able to show off your curves more.
Vertical lines are your friends. These type of lines makes your figure look better.
Mix them with long blouses or a skirt.
Brands like Black Milk, Hot Topic and others, gives us a huge spacial variety. And now you know where to find those leggings that you long for and add them to your wardrobe!
Hot Topic: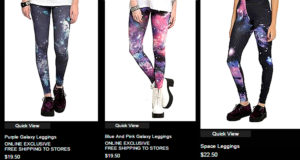 Black Milk Clothing: