Hello everyone! Today I'm going to write a review for the short black wig that I will use for Elizabeth from Bioshock.
This wig is sponsored by Everydaywigs🙂 They have a website here and a Facebook page here, feel free to visit them!
Let's start!
1- The Wig :
This wig comes in a safety plastic bag, a wig cap and a cute little pink brush tat I can carry on everywhere. The texture of the wig is super soft and full of hair, has 3 main hooks to make the wig more stable on your head + the most important is that the line that divide the fringe is super natural.
You can find it HERE
2 – The size : 
For frontlace wigs it's very important that it fits perfectly because if not, the tiny net that is on your forehead will look funny, and you want it to look like it's your own hair. This wig net was a little loose because when I moved the hair behind my ear it was a little loose in that part so I had to glue it with my wig glue (you can also use a lash glue), but if you don't need your hair behind the ear, you will be fine.
3 – Accuracy : 
The wig it was super accurate from the photos on the website as you can see there : the color and style are the same.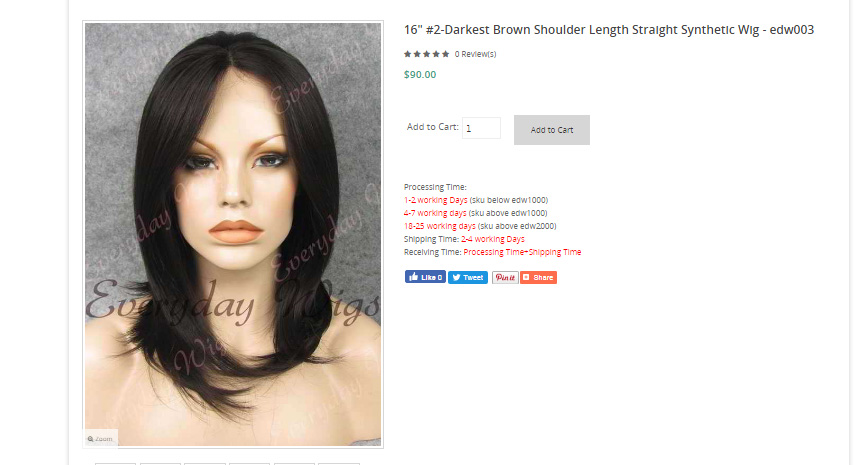 3) The seller: 
I love all the wigs from Everyday wigs! They are always kind in their emails/chat and they show lots of interest if you are happy with your wig<3
5) The shipping : 
I received the cosplay within 2 weeks, so the shipping is great!
6) The price : 
The price of this wig is around $90 dollars on their website, which makes it ok for a front lace wig, I think is so hard to find this kind of natural color and style on a wig.
7) Conclusion : 
– Quality of the wig : 5/5
– Size of the wig  : 4/5
– Accuracy of the photo : 5/5
– Shipping : 5/5
– Seller : 5/5
– Price : 4/5
Everydaywigs has tons of different styles (that I need right now). So if you like to get some, don't forget to use the code NADYA to get *8% off your purchase! 😉
You can also see the wig transformation on this video: SOON!
Thank you so much and see you in the next Review! <3