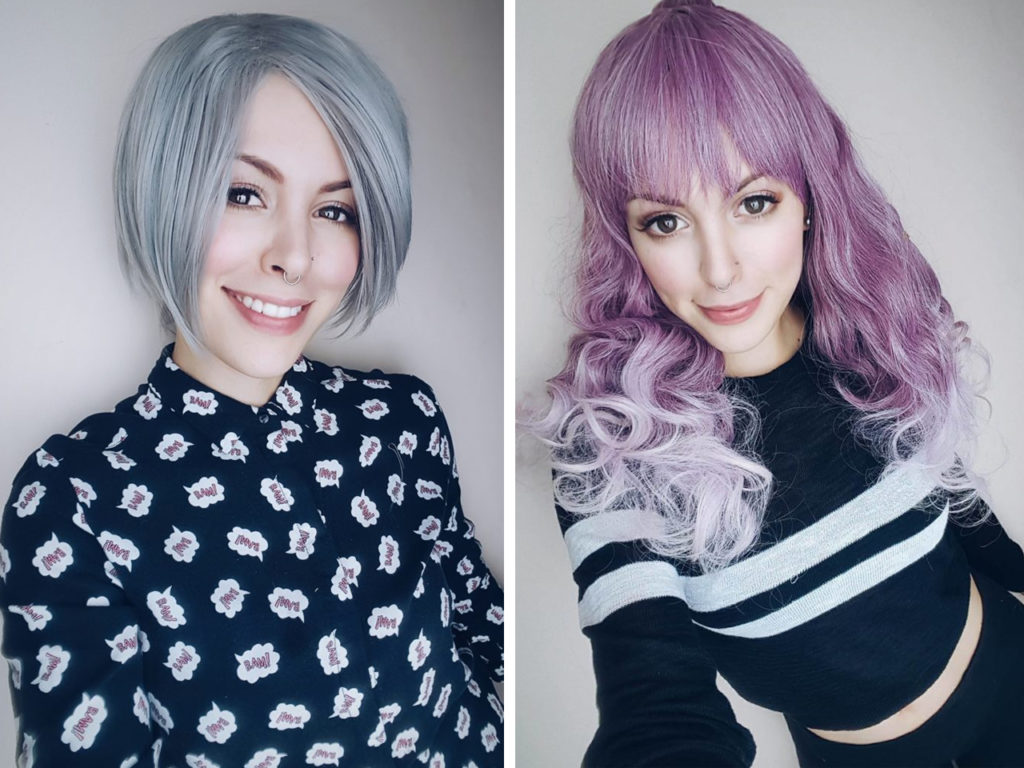 Hello friends! Today I'm going to write a review on two different wigs!
These wigs are sponsored by Ruler cosplay! ? They have a website HERE , feel free to check their page! 
Let's begin with the wig I chose for Viktor from Yuri on Ice!
1- The Wig :
For this character you need a very specific gray and style wig. The wig comes in a plastic bag for safety. The texture of the wig is super soft. I had to trim the bangs a little bit because without it, it completely covers my eyes, more to one side to look more like the character.
You can find this wig HERE.
2 – The size : 
This is a common wig. No hooks to stay in place or anything. But it has the elastic to make it fit to your hair.
3 – Accuracy : 
The wig has its diferencies to the display picture on the web, the color is more dark and long.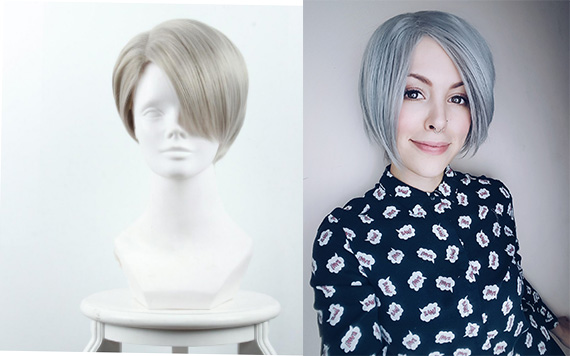 4) The shipping : 
I received the wig within 2 weeks, so the shipping is great!
5) The price : 
The price of this wig is around $17 dollars on their website, which makes it suuuuper affordable!
Let's continue with the purple ombre wig!
1- The Wig :
I chose the "Sweet harajuku purple and pink ombre" on a purple version wig which you can find HERE.
I picked this wig because I usually don't just buy wigs just for myself that are always for cosplays, and this one I liked just because of the style and the color, now that my hair is no longer purple I can wear this in normal life.
This wig is so soft, usually wigs with curls are not this soft.
2 – Accuracy
The color, length and texture are the same as in the picture. I have more light from the lightboxes in my house.
3) The seller : 
Ruler cosplay is a great seller, they have lots of wigs on their page and the best is that everybody can have their wigs because of their prices.
4) The shipping : 
I received the wig in 2 week, so the shipping is good if you are in a hurry or if you need to stylize it like I did!
5) The price : 
The price of this wig is around $29 dollars on their website, for a stylize wig like this one I think the price is good.
7) Conclusion : 
– Quality : 5/5
– Size : 5/5
– Accuracy : 3/5
– Shipping : 5/5
– Seller : 5/5
– Price : 4/5
In general, the quality of the wigs in Ruler cosplay is great, they specialize on wigs for lolis.
For more wigs, please visit: UNIQSO
Thank you so much and see you in the next Review! <3